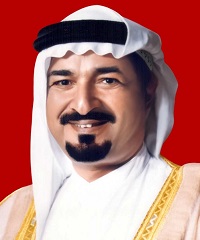 His Highness Sheikh Humaid bin Rashid Al Nuaimi (born in 1931) is the Ruler of the Emirate of Ajman and a member of the UAE Supreme Council. He is the 10th Ruler of Ajman. H.H. Humaid bin Rashid Al Nuaimi succeeded his late father His Highness Sheikh Rashid bin Humaid Al Nuaimi on September 6th, 1981. He had been the Crown Prince of the Emirate of Ajman since 1960. His Highness continued toward achieving a fast-paced economic and social progress. His Highness had a significant role in several achievements of the emirate, which has become a prosperous economic region attracting investments. His Highness has established security and stability during his tenure, and has shown wise visions that have resulted in efficient governmental system, that has been able to achieve great civil development plans and concepts which we enjoy today as a true reality in various fields.
Era of Achievements
During the reign of His Highness, Ajman has witnessed a number of major achievements in terms of vital and important projects. The infrastructure and urban structure have been strengthened to the highest standards, and the foundations and basis of a strong and prosperous economy have been grounded through the establishment of Ajman Port and Ajman Free Zone (AFZ), pushing forward the investment wheel. Furthermore, His Highness paid a particular attention to the educational system, as H.H. had a certainty that progress and success need a powerful and skilled national resource. Accordingly, His Highness gave wise directives to establish Ajman University of Science and Technology, which is now considered one of the most important centres for educational achievements in the country and the region. His Highness was always keen on providing the optimum livelihood for citizens of both genders. In addition, women had a great portion of care as they represent half of the society. Therefore, Umm Al Moumineen Women's Association was established as one of the first supportive centres of woman movement all over the region. His Highness was known for his indefinite giving, his love to good deeds and helping those in need inside and outside the country.
"The Emirate of Ajman is witnessing continuous developments in all economic and social aspects, and we continue planning to drive in and motivate investments and make further progress in every field."
- His Highness Sheikh Humaid bin Rashid Al Nuaimi
Do you have any comments about this page ?
If you want to contact us click here :